Environmentalists Back Murphy for U.S. Senate; Murphy Pushes More Action Against Algae Blooms
WFSU Elections 2016
August 16, 2016,
Comments Off
Congressman Patrick Murphy, D-FL, is touting environmentalists' support. The candidate for U.S. Senate says if elected, he would push to clean up the waters in South Florida affected by toxic blue-green algae.
Tiernan Sittenfeld from the League of Conservation Voters says Murphy is the best chance to preserve Florida's ecosystem, calling the incumbent Sen. Marco Rubio, R-FL, a climate change denier.
"Patrick Murphy has strongly and consistently supported climate action (and) protection for our coast and water, especially the Everglades and Indian River," she says on a conference call with reporters. "(He) is the only candidate who can defeat climate science denier Marco Rubio and provide Florida with a strong environmental voice in the U.S. Senate."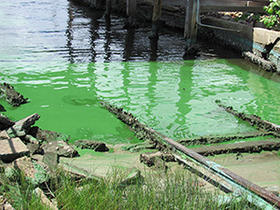 In 2015, PBS News Hour reported Rubio supporting a Senate measure stating "climate change is real and not a hoax." However on a separate vote, he opposed a measure saying human activity contributes to it.
With the endorsement from the League of Conservation Voters, Murphy says he'll push for bills that would combat the blue-green algae plaguing the Treasure Coast and plans to move the affected waters south.
"We need to also do everything we can in making sure that we are identifying the correct land not only for storage, but for sending this water south," Murphy says. "That is the long term plan here."
He contributes part of South Florida's environmental challenges to the Army Corps of Engineers.
"Unfortunately, the Army Corps of Engineers basically re-irrigated the Everglades, you know, 80 (to) 100 years ago, and we're still dealing with the consequences of that," he says.
Murphy also calls for federal funding to protect Florida estuaries and to repair the Herbert Hoover Dike.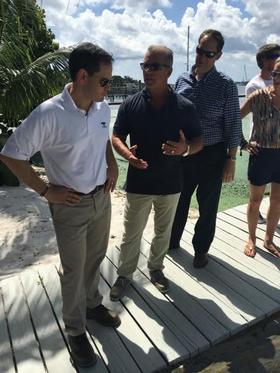 However, Murphy isn't the only candidate focusing on the state's algae bloom.
On his visit to the Treasure Coast in July, Rubio supported Martin County's request for a state of emergency and pushed the Army Corps of Engineers to stop the discharges from Lake Okeechobee.
The Corps announced plans to reduce water flowing from the lake the following day.